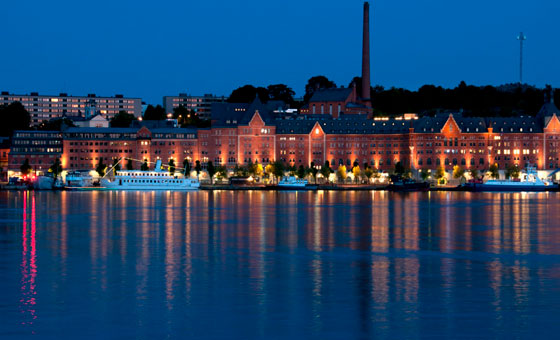 Terrassen
Münchenbryggeriet
On Södermalm, Terrassen is located at the same beautiful premises c/o LjudBang; Söder Mälarstrand 77.
Our facilities feature:
 Dolby Grade & Finishing Suite

Reference-level monitoring (Dolby PRM)
The latest & most powerful Nucoda color grading platform
Avid, Premiere & Resolve Studio
Reference audio (Surround/5.1, Genelec)

Grade & Mix Theatre

Christie DCI 2k Projection, 8.5m Canvas
Dolby Audio (7.1, JBL)
As above - Nucoda, Resolve Studio etc.
ProTools

Edit & Sound Editing suites
Recording / VO Booths
Sound mixing suites
Extremely fast, reliable enterprise-level storage for long and shortform projects of any type, including 4k & 4k HDR uncompressed.
Symetrical Gigabit fiber for incredibly fast digital deliveries, including Aspera.
Retro Pinball!
How To Find Us
There are two entrances, depending on whether you come from the front (seafront entrance / entree sjosida) or the Münchenbryggeriet's rear yard, from Hornsgatan / T-Bana.
Front Entrance:
Soder Malarstrand 77 - we are immediately on the left as you enter. There is ample parking available both across the road and in Münchenbryggeriet's visitor parking.
Yard Entrance:
If you are coming by T-Bana, take the Torkel Knutssonsgatan exit at Mariatorget, cross Hornsgatan, follow Ludvigsbergsgatan up the hill, and follow the pedestrian access downhill and along the rock-face all the way to number 45 at the end. Take the lift or stairs down to the ground floor. We are on the right, beside the Söder Mälarstrand entrance.